New Colorado football coach Deion Sanders made at least one thing very clear to his players ahead of spring football practice — they're going to have to earn everything down to the numbers on their jerseys.
Well Off Media posted a video Sunday of Sanders addressing his team and laying out the ground rules from jersey numbers to academics. He explained his rules for wearing a single digit on the back of their jersey and that it would be up to him on who wears No. 1.
CLICK HERE FOR MORE SPORTS COVERAGE ON FOXNEWS.COM
Sep 4, 2022; Miami, Florida, US; Jackson State Tigers head coach Deion Sanders receives the Orange Blossom Classic Trophy after beating Florida A&M Rattlers at Hard Rock Stadium. (Rich Storry-USA TODAY Sports)
"If you want a number, you got to earn it. The reason we're here is because we ask you for the numbers that you desire and a lot of you guys were desiring numbers that ain't you. What I mean by that, a lineman is not wearing a single digit. That's not gonna happen under me. And if you ain't that guy, you're not wearing a single digit.
"Back in the day, when we came up, single digits was that guy. It was him. It was who he was. How can you ask for No. 1 if you ain't the one?"
DEION SANDERS AT THE CENTER OF RELIGION CONTROVERSY MONTHS BEFORE COLORADO STARTS 2023 SEASON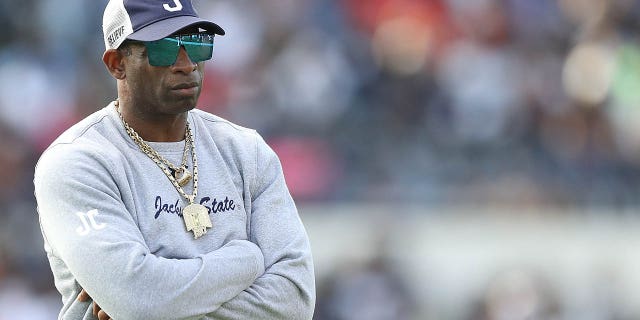 Head coach Deion Sanders of the Jackson State Tigers looks on before the game against the Southern University Jaguars in the SWAC Championship at Mississippi Veterans Memorial Stadium on Dec. 3, 2022 in Jackson, Mississippi. (Justin Ford/Getty Images)
Sanders said there are only eight single digits available for the team. No. 2 was gone, and he hands out No. 1.
"You're not wearing zero. That would never happen because that means you're nothing," Sanders said. "I don't understand who wants a zero. I don't understand why you wanna be a nothing. I don't get that."
Sanders said if there was more than one person who wanted a number, they would have to compete for it.
"Everything you do around here will be earned. We ain't giving you nothing," Sanders said. "So you gotta go get it and you gotta take it."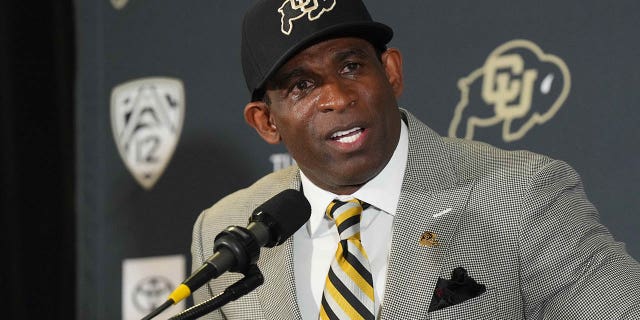 Dec 4, 2022; Boulder, CO, USA; Colorado Buffaloes head coach Deion Sanders speaks during a press conference at the Arrow Touchdown Club. (Ron Chenoy-USA TODAY Sports)
CLICK HERE TO GET THE FOX NEWS APP
The Buffaloes open their season on Sept. 2 against TCU.
Ryan Gaydos is a senior editor for Fox News Digital.