Justin Herbert passed for 405 yards and three touchdowns for Los Angeles and the Chargers kept Kirk Cousins and Minnesota out of the end zone twice in the last three minutes to preserve a wild 28-24 victory over the winless Vikings on Sunday.
Kenneth Murray Jr. made the game-sealing interception in the end zone with 7 seconds left, snagging a ball that deflected off the chest of diving tight end T.J. Hockenson. On Minnesota's previous possession, Michael Davis knocked down Cousins' fourth-down throw to Justin Jefferson at the goal line.
The Vikings had that second chance thanks to the bold choice by Chargers coach Brandon Staley to go for it on fourth-and-1 at his own 24 inside the 2-minute warning. Joshua Kelley was stonewalled in the hole by Jonathan Bullard. But the Vikings (0-3) have simply lacked the late-game touch they had last season on the way to 11 wins in one-score games.
Keenan Allen not only set career highs with 205 yards and 18 catches, but the 11th-year standout threw a 49-yard touchdown pass to Mike Williams on a trick play that gave the Chargers (1-2) a 21-10 lead midway through the third quarter.
CLICK HERE FOR MORE SPORTS COVERAGE ON FOXNEWS.COM
Asante Samuel Jr. #26 of the Los Angeles Chargers reacts after his team's 28-24 win against the Minnesota Vikings at U.S. Bank Stadium on September 24, 2023 in Minneapolis, Minnesota.  (Stephen Maturen/Getty Images)
Herbert, who went 40 for 47 and set the franchise record with 213 consecutive attempts and counting without an interception, hit Donald Parham Jr. for two first-half touchdowns, including a fourth-and-goal grab with 50 seconds left before halftime.
In a dizzying final stretch between two potent offenses and teams in desperate situations after two straight losses, Cousins converted a fourth-down pass for a 36-yard touchdown to K.J. Osborn late in the third quarter. Then he hit Jefferson, who had 149 yards, for a 52-yard score and a 24-21 lead with 11:20 left.
Herbert guided the Chargers on a seven-play, 75-yard march to get back in front on a 30-yard touchdown pass Joshua Palmer with 8:05 left. Akayleb Evans almost made a diving interception, but the ball slipped through his hands, off his helmet and in the air to Palmer at the goal line.
The Vikings gave up 259 rushing yards last week to Philadelphia, but with Austin Ekeler out again, the Chargers abandoned the running game. And why not? Herbert has the most completions in history for a player's first four seasons, with a whopping 14 games to go to build on that total.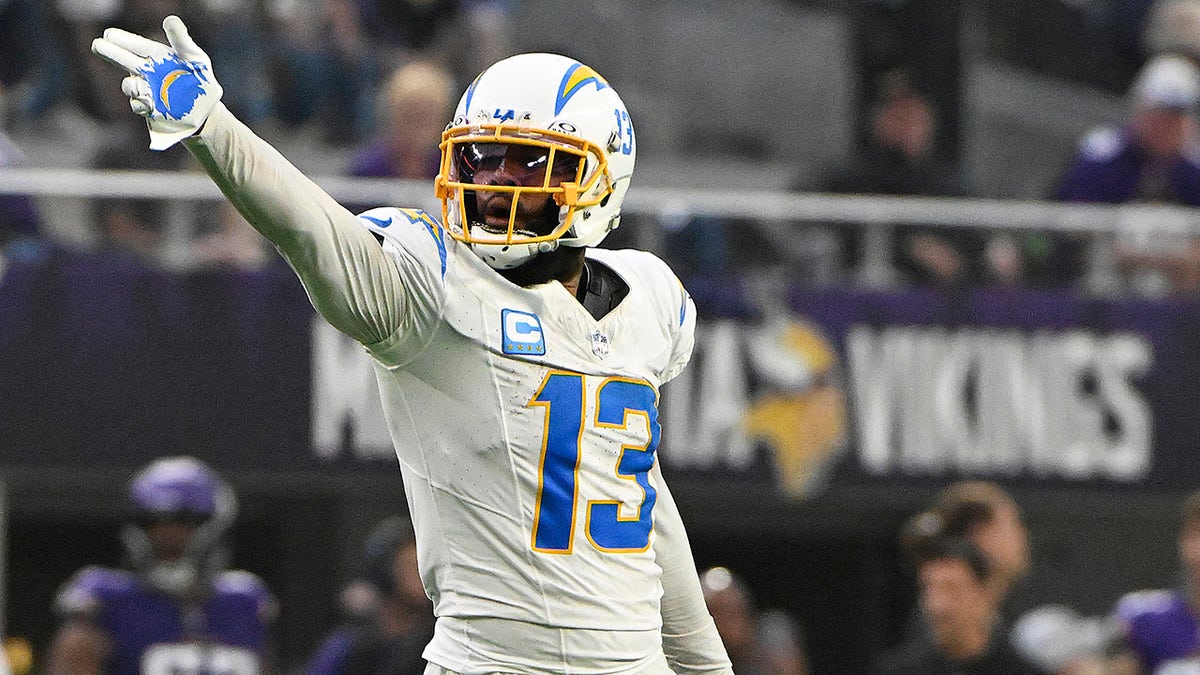 Keenan Allen #13 of the Los Angeles Chargers signals for a first down during the fourth quarter against the Minnesota Vikings at U.S. Bank Stadium on September 24, 2023 in Minneapolis, Minnesota.  (Stephen Maturen/Getty Images)
PATRIOTS STAVE OFF JETS COMEBACK TO WIN 15TH STRAIGHT GAME AGAINST NEW YORK
In this game between 2022 playoff teams, Staley got the edge on his friend Kevin O'Connell, who worked with him on the Los Angeles Rams' staff in 2020.
For Staley and the Chargers, encouragement can be found in the fact that 31 teams have started 0-2 and made the playoffs since the NFL expanded the field in 1990. Cincinnati did so last season.
For O'Connell and the Vikings, the road looks rough. Only four teams since 1990 have made the playoffs after an 0-3 start: the Chargers (1992), Detroit (1995), Buffalo (1998) and Houston (2018).
BUTTER FINGERS
The Vikings have fumbled seven times this season and lost them all. Hockenson was the latest culprit, surrendering a promising first possession at the 21-yard line as Alohi Gilman wrestled the ball away in a crowd of defenders. The Vikings have a minus-seven turnover ratio, the worst in the league.
HERBERT'S HEROICS
Herbert became the second-fastest player in NFL history to reach 15,000 passing yards, in his 52nd career regular season game. Patrick Mahomes got there in 49 games.
INJURY REPORT
Chargers: S Derwin James (hamstring) and Williams (knee) were injured in the third quarter. … In addition to Ekeler, LB Eric Kendricks (hamstring) — who played eight seasons for the Vikings — was inactive.
Vikings: Jefferson left the game for a play on the final drive with an injury that kept him on the field for a few minutes before walking slowly to the sideline. … S Josh Metellus (shoulder) aggravated an existing injury and was forced out in the fourth quarter. C Garrett Bradbury (back) was out for the second straight game. OLB Marcus Davenport (ankle) was also inactive again. He has played four snaps this season.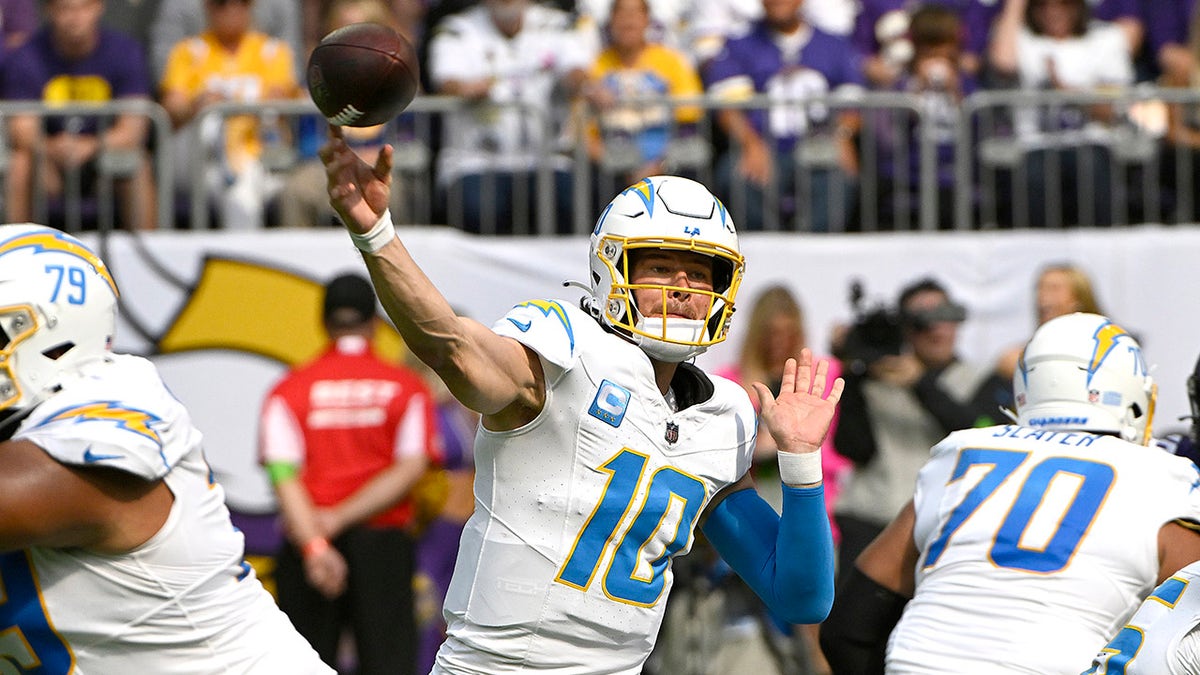 Justin Herbert #10 of the Los Angeles Chargers attempts a pass during the first half against the Minnesota Vikings at U.S. Bank Stadium on September 24, 2023 in Minneapolis, Minnesota.  (Stephen Maturen/Getty Images)
CLICK HERE TO GET THE FOX NEWS APP
UP NEXT
Chargers: Host Las Vegas next Sunday.
Vikings: Visit Carolina next Sunday