Sports pundit Bomani Jones took issue with the NFL highlighting Buffalo Bills defensive back Damar Hamlin's return to Paycor Stadium about 10 months after he suffered a cardiac arrest there.
The NFL posted out NBC Sports' Melissa Stark's clip about Hamlin's return and how his journey has inspired others to be trained in CPR, calling it "inspiring."
Hamlin nearly died after suffering a medical episode during a game between the Bills and Cincinnati Bengals late in the 2022 season. Sunday night marked his return to the stadium where it all happened.
CLICK HERE FOR MORE SPORTS COVERAGE ON FOXNEWS.COM
Sports journalist Bomani Jones attends a 2023 NBA Summer League game between the Golden State Warriors and the Los Angeles Lakers at the Thomas & Mack Center on July 7, 2023 in Las Vegas. (Ethan Miller/Getty Images)
For Jones, he suggested the hype around Hamlin's return left a bad taste in his mouth. The latest episode of "The Right Time with Bomani Jones" asked whether it was "finally time to stop talking about Damar Hamlin?"
Jones had a suggestion for the way Hamlin is covered – "How about we just act like that never happened?" 
"I do recognize that the role of sport in society is value promotion and all of these things. But now that everything has to be made into a television show, the NFL has to stand in every way for all that's good," Jones said. "And what they're trying to do is turn what happened with Damar Hamlin into a story of inspiration. There is nothing inspiring about what happened.
NASA GIVES VIKINGS' JOSHUA DOBBS NEW NICKNAME AFTER HISTORIC PERFORMANCE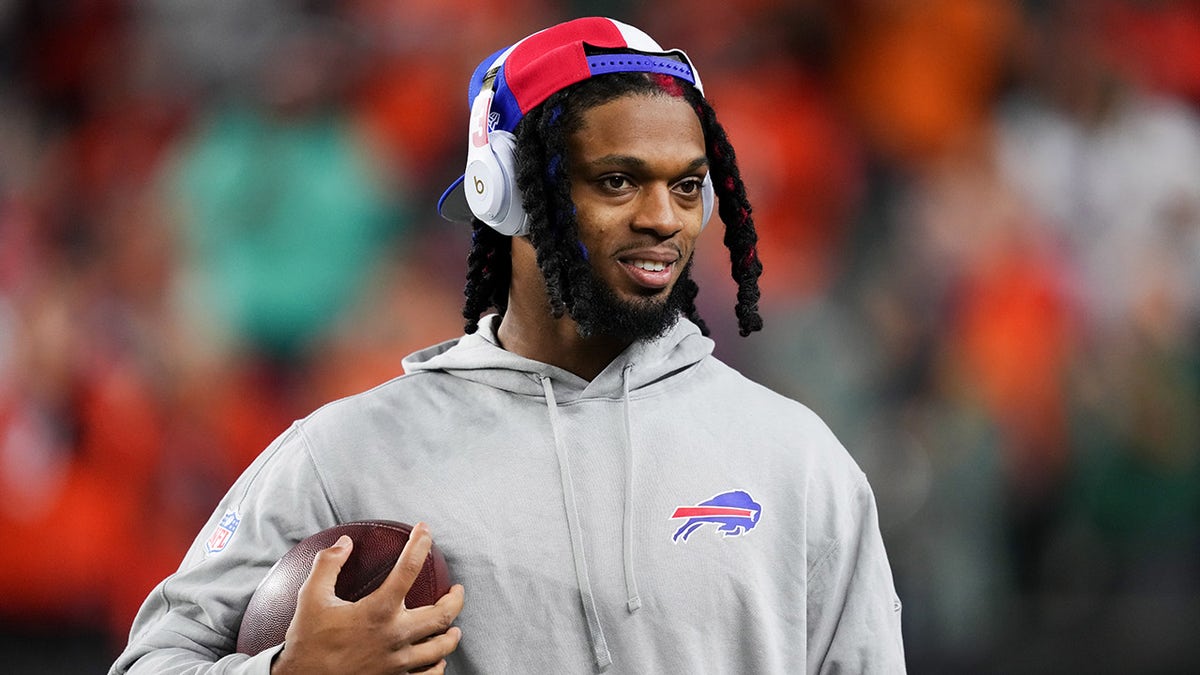 Damar Hamlin, #3 of the Buffalo Bills, looks on before the game against the Cincinnati Bengals at Paycor Stadium on Nov. 5, 2023 in Cincinnati. (Dylan Buell/Getty Images)
"If there's an inspiration, yeah, the first responders and their ability to save somebody's life under those circumstances. Hearing about Damar Hamlin – all that does is make me sit there and question why exactly am I doing this again? What am I watching this for?"
Jones added that it has been almost a year since the Hamlin incident occurred and that he has not really "reconciled" where he was on it.
Hamlin was also seen after the game near the spot where the incident occurred at Paycor Stadium. He appeared to have a moment of reflection. Jones called it "touching."
"But man, I wondered what is or was in his mind as he's doing that," he said.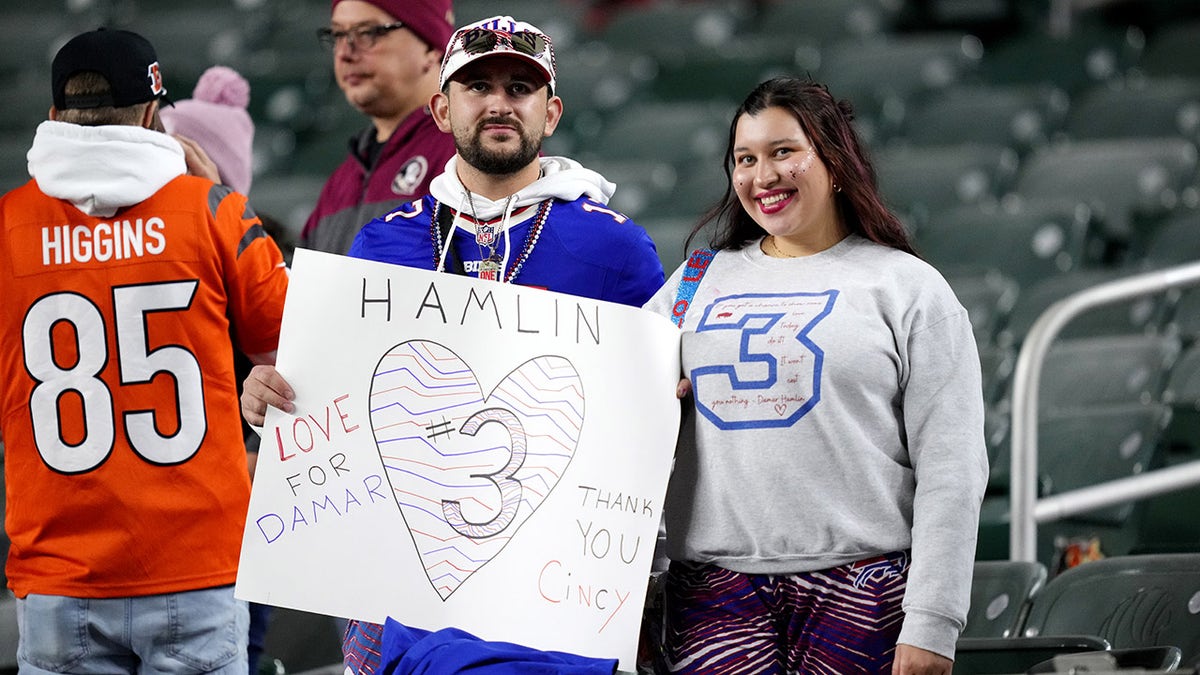 A fan holds a sign for Damar Hamlin during warmups prior to the game between the Cincinnati Bengals and the Buffalo Bills at Paycor Stadium on Nov. 5, 2023 in Cincinnati. (Dylan Buell/Getty Images)
CLICK HERE TO GET THE FOX NEWS APP
Hamlin appeared in one game this season as the Bills still appear to be easing him into game action. He was a healthy scratch for the game against the Bengals.
Ryan Gaydos is a senior editor for Fox News Digital.