HBO announced Wednesday it has launched production on a documentary that will highlight Barry Bonds.
Bonds was, and continues to be, one of the most polarizing and notorious baseball players of all time.
The seven-time Most Valuable Player is the all-time home run king, but it's widely speculated and believed that he was heavily aided by the use of performance-enhancing drugs.
His ties to steroids left him out of the National Baseball Hall of Fame through the Baseball Writers' Association of America vote, and his fate in the Hall will now be left up to other committees.
CLICK HERE FOR MORE SPORTS COVERAGE ON FOXNEWS.COM
Barry Bonds of the San Francisco Giants hits career home run No. 756 on August 7, 2007, at AT&T Park in San Francisco. (Jed Jacobsohn/Getty Images)
"The untitled HBO Sports Documentary will tell the story of Barry Bonds, baseball's single-season and all-time home run king, from his beginnings as the son of All-Star Bobby Bonds, and godson of the iconic Willie Mays, all the way up to his meteoric rise in the 1990s and 2000s," says a release about the project via Deadline. 
"Using archival footage and original interviews, the film will chronicle Bonds' emergence as one of the game's most talented all-around players with the Pittsburgh Pirates and San Francisco Giants and then his years as a superstar with the Giants when he rewrote the record book in his late 30s amid controversy."
The film is being directed by Keith McQuirter, who may be best known for his work on "By Whatever Means Necessary: The Times of Godfather of Harlem." Several executive producers from ESPN's film series "30 For 30" will also be working on the project.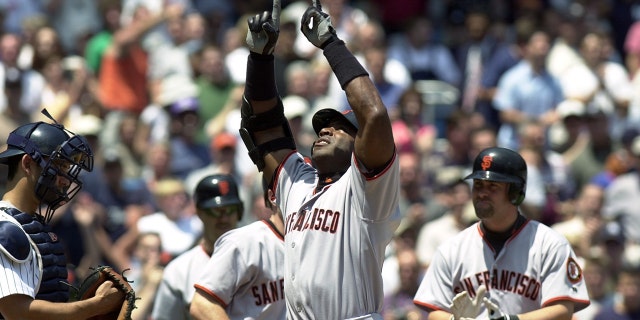 Bonds was, and continues to be, one of the most polarizing and notorious baseball players of all time. (James Keivom/NY Daily News Archive via Getty Images)
A'S FAN STORMS FIELD BEFORE GAME, RUNS THE BASES
"Growing up in the San Francisco Bay Area in the 1990s, Barry Bonds was the ultimate superstar," McQuirter said in a statement. "You couldn't escape his name or his game, his story, or his personality. Every time he stepped up to the plate, the energy was electric – because he wasn't just competing with his contemporaries, he was competing with history. Bonds was undoubtedly controversial, but no matter how you felt about him, his pursuit of becoming the greatest player of all time was mesmerizing."
According to a release, the documentary "will include a diverse cast of influential figures from Barry Bonds' life and career." Interestingly, the release also notes "the opportunity for Bonds to actively participate and share his firsthand experiences remains available."
Bonds is the only player to hit at least 350 home runs and steal 350 bases – he mashed 762 homers and swiped 514 bags. He's also the all-time leader in walks (2,558) and intentional walks (688). In fact, he has more intentional walks than the entire Tampa Bay Rays franchise (665).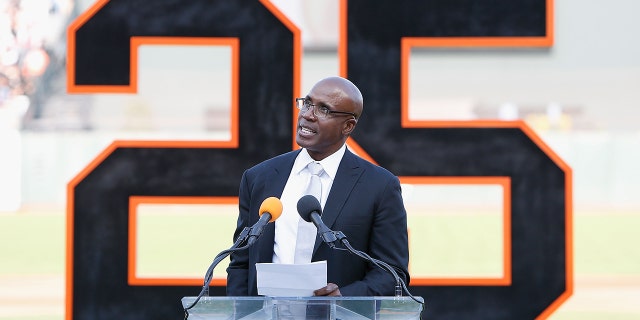 Former San Francisco Giants player Barry Bonds speaks at a ceremony to retire his No. 25 jersey at AT&T Park on August 11, 2018, in San Francisco. (Lachlan Cunningham/Pool via Getty Images)
CLICK HERE TO GET THE FOX NEWS APP
His 73 homers in 2001 and his 232 walks, 120 intentional passes and .609 on-base percentage in 2004 remain single-season records. His No. 25 is retired by the Giants.