Minnesota Vikings quarterback Kirk Cousins limped over to the sideline during the fourth quarter of Sunday's game against the Green Bay Packers unable to put any weight down on his right leg. He was then carted off the field.
An MRI on Monday revealed the Vikings' worst fears: Cousins would likely miss the remainder of the season after suffering a torn Achilles tendon.
Kirk Cousins of the Minnesota Vikings looks on during the first half of a game against the Green Bay Packers at Lambeau Field on October 29, 2023, in Green Bay, Wisconsin. (Patrick McDermott/Getty Images)
Minnesota announced Wednesday that Cousins underwent successful surgery at Twin Cities Orthopedics in Eagan, Minnesota.
VIKINGS TRADE FOR CARDINALS QUARTERBACK JOSH DOBBS AFTER KIRK COUSINS' SEASON-ENDING INJURY
"What reenergized me was talking with Kirk and, the way his mind works, he's so process-oriented and so intentional, he's talking about being back at OTAs, doing all the different things and what his schedule's going to be," Minnesota general manager Kwesi Adofo-Mensah said Wednesday.
"And that's how his mind works, so that's how my mind went."
Cousins is the latest NFL player to suffer that type of injury this season. Four-time league MVP Aaron Rodgers ruptured his Achilles just four plays into his debut with the New York Jets in Week 1.
Dr. Justin Greisberg, chief of the Foot and Ankle Service at NewYork-Presbyterian/Columbia University Irving Medical Center, spoke to Fox News Digital about the general aspects of Achilles injuries and what goes into the recovery process that can traditionally range from nine months to a year.
"When it comes to an Achilles tendon, the typical sports injury we see where it's a sudden explosive injury, where the tendon completely tears, and whether we call it a tear or a rupture, I think it's all referring to the same thing where it's literally a sudden, violent, almost like an explosion. It's not a cutting – the tendon literally explodes from inside under all the force."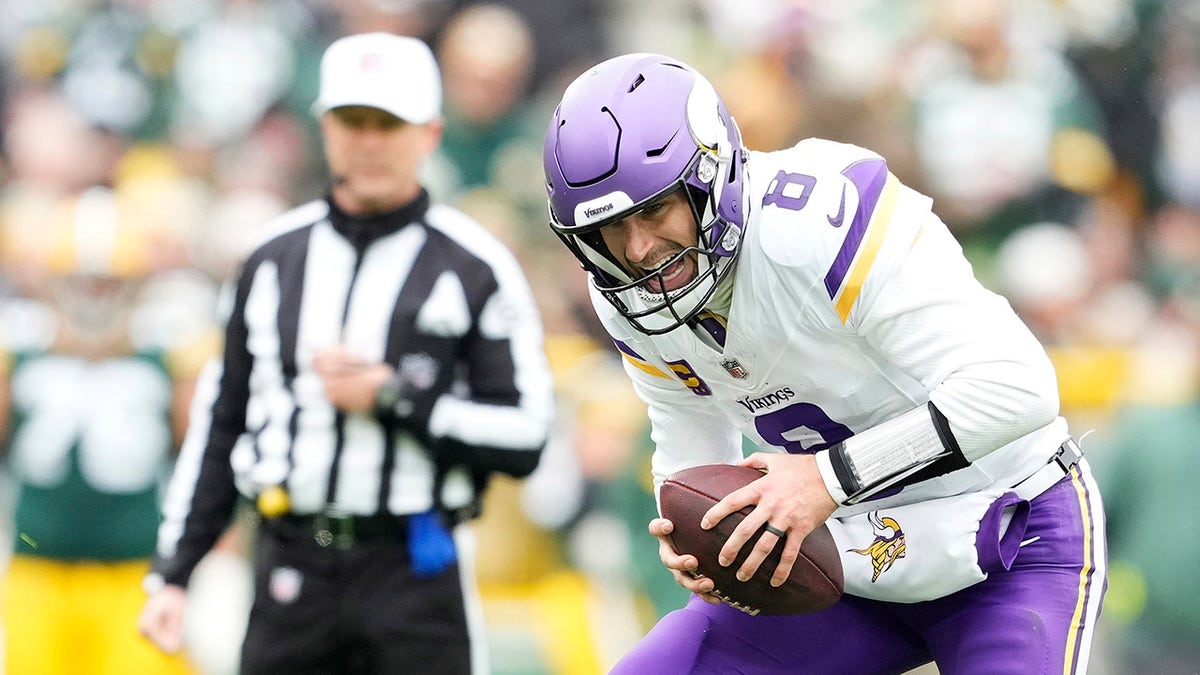 Kirk Cousins of the Minnesota Vikings is injured during a play in the fourth quarter against the Green Bay Packers at Lambeau Field on October 29, 2023, in Green Bay, Wisconsin. (Patrick McDermott/Getty Images)
KIRK COUSINS THROWS 2 TOUCHDOWN PASSES IN VIKINGS' WIN OVER PACKERS BEFORE LATE EXIT WITH INJURY
Videos of Cousins' and Rodgers' injury circulating on social media have shown the tendon as Greisberg described it.
"When you have the benefit of seeing some of these slow-motion replays, it is super violent what happens. On a technical level, basically the ankle is trying to go one way while the person is trying to push themselves the other way. And on a good day, the force through the Achilles tendon while I'm walking is more than my body weight. Now start running or leaping or trying to propel yourself forward, and you're getting a ton of force through a tendon that is one of our strongest tendons, if not the strongest tendon, in the body, but it can overwhelm it."
Greisberg said that the recovery of the Achilles tendon is complex in that for high-performance patients like professional athletes, the goal is not only to heal the tendon but to ensure that it heals in a way that the patient is able to regain the explosiveness for which a healthy Achilles allows.
"Every tendon in the body is its own unique tendon. You can't make rules that apply to all of them. Now, when it comes to the Achilles, when it gets injured, it actually tries to heal. And so the challenge isn't always just getting it to heal. It's getting it to heal nice and tight. And so, if I have an Achilles tendon and it heals a little bit loose, I don't get that explosive power back."
He continued, "So, the tradition a year ago, five years ago was a year. We'll see you in a year. It might be nine months, but that's almost a year to get the person back to that level of explosive power that the Achilles needs to have. When you have an Achilles rupture, of course we're focusing on the tendon, but the tendon is what connects the fleshy muscle to the bone. And if you may have seen in some of these videos, when the tendon ruptures, the fleshy muscle gets hit, and you can see some crazy things in slow-motion videos."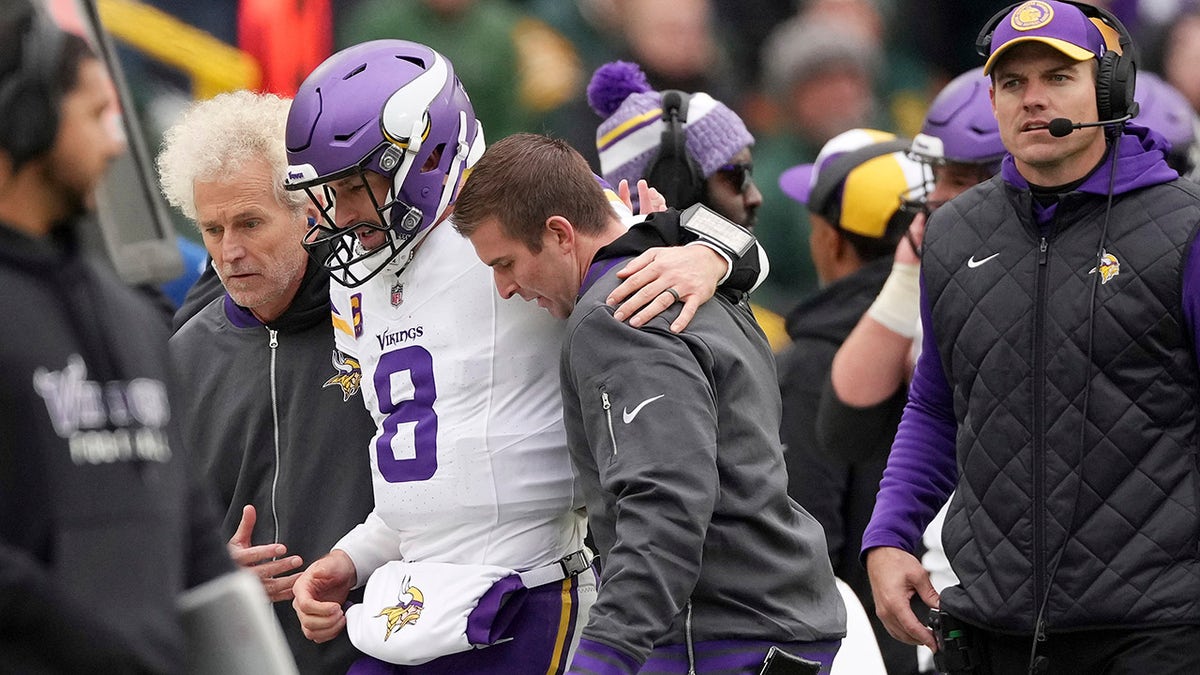 Minnesota Vikings quarterback Kirk Cousins is helped off the field after going down with an injury in the fourth quarter against the Green Bay Packers, Oct. 29, 2023, in Green Bay, Wisconsin. (Anthony Souffle/Star Tribune via AP)
CLICK HERE FOR MORE SPORTS COVERAGE ON FOXNEWS.COM
Greisberg said that bringing the gastrocnemius, one of the two major muscles in the calf through which the Achilles runs, back to health is where the recovery process can take time. 
"If you see anybody with an Achilles rupture a week or two later, the amount of muscle being lost in the Achilles muscle, the muscle that we call the gastrocnemius, it's amazing how fast it goes. And so getting that muscle back is what takes such a long time. Some of that is just the nature of the injury. So, there's nobody with a full Achilles rupture who is back playing football six weeks after the injury. The tradition is a year, maybe nine months, certainly not this season when it comes to a seasonal sport like football or even baseball."
Greisberg said that in his experience there is "a lot of interest" in trying to speed up the recovery time for these injuries, but much of that depends on "surgical technique" and rehab resources.
"There's a lot of interest in trying to rehab more quickly. And sometimes our surgical technique can let us begin doing that. And also, keep in mind, at the highest level of athletics, a professional athlete may have not just one but maybe more than one – it could be a team of people whose 24/7 job is to help them rehab. Whereas the average human being that's not a pro athlete gets to work with a therapist for an hour twice a week. And so I think part of the way we do things is better surgical technique and then more assistance to have a more aggressive, rapid rehab."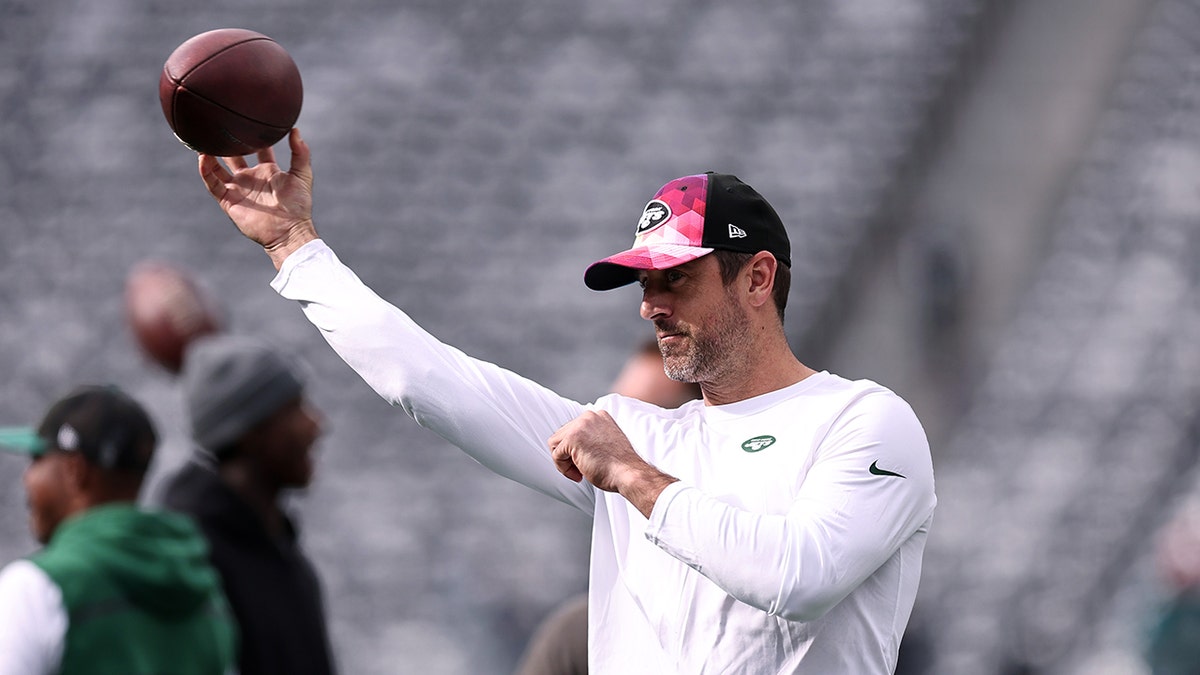 Aaron Rodgers of the New York Jets throws the ball prior to the game against the Philadelphia Eagles at MetLife Stadium on October 15, 2023, in East Rutherford, New Jersey. (Dustin Satloff/Getty Images)
CLICK HERE TO GET THE FOX NEWS APP
Cousins' injury forced the Vikings to act before the NFL deadline on Tuesday. Quarterback Joshua Dobbs was acquired in a trade with the Arizona Cardinals. He will serve as the backup to rookie Jaren Hall against the Atlanta Falcons on Sunday.
The timing of the injury also comes as Cousins' contract is set to expire at the end of this season.
"I think my 'want' for Kirk to come back isn't just a 'me' thing. You know, it's a negotiation," Adofo-Mensah said Wednesday. "You come together at the table, and you try and see if everything works together, and we'll have that dialogue when the time comes."
The Associated Press contributed to this report.