Philadelphia Eagles star receiver A.J. Brown has set a new NFL record after yet another incredible performance that led to a victory. 
Brown is now the first NFL player in history to have six straight games of 125-plus receiving yards, breaking Hall of Famer Calvin Johnson's record of five. 
He accomplished this feat with some dazzling catches along the way to an Eagles 38-31 win over the Washington Commanders. 
CLICK HERE FOR MORE SPORTS COVERAGE ON FOXNEWS.COM
Emmanuel Forbes, #13 of the Washington Commanders, tackles A.J. Brown, #11 of the Philadelphia Eagles, in the second quarter of a game at FedEx Field on October 29, 2023, in Landover, Maryland. (Jess Rapfogel/Getty Images)
This game was all Commanders at FedExField to start, as they found the end zone in two of their first three drives. But quarterback Jalen Hurts finally got the Eagles into the colored paint when he trusted Brown with a ball to the left side of the end zone despite some solid Washington coverage. 
Brown, tracking the ball the entire way, made an extremely impressive one-handed grab for a 16-yard touchdown with 34 seconds left in the first half to make it a 14-10 game after the extra point was converted. 
But Brown wasn't done. He was just getting started in this game. 
EAGLES' JASON KELCE EXPRESSES CONCERN FOR BROTHER TRAVIS KELCE AMID BUDDING ROMANCE WITH TAYLOR SWIFT
After a disappointing first drive of the second half for the Eagles, where Hurts fumbled at the one-yard line on Philadelphia's infamous "tush push" play, the defense forced a punt on the Commanders that got the ball back to the offense quickly. Hurts needed just seven plays to deliver another strike to Brown deep down the left sideline for a 25-yard touchdown to tie the game at 17 apiece. 
It was Brown's fifth touchdown catch of the season after hauling in one last week against the Miami Dolphins, where he had 137 yards on 10 catches. 
Brown would finish this game with 130 yards after catching all eight of his targets from Hurts. This performance puts Brown at 939 yards over eight games, which is only second to Dolphins receiver Tyreek Hill, who cracked 1,000 yards receiving on Sunday in Miami's win over the New England Patriots.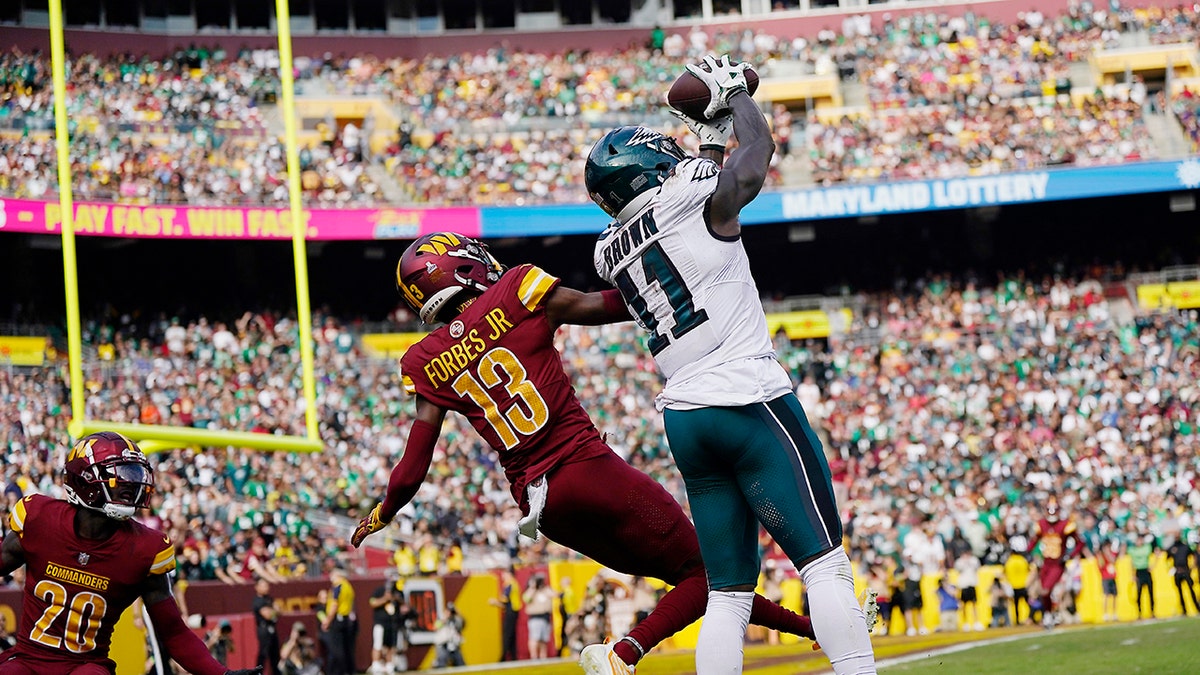 A.J. Brown, #11 of the Philadelphia Eagles, catches a pass for a touchdown over Emmanuel Forbes, #13 of the Washington Commanders, in the third quarter of a game at FedExField on October 29, 2023, in Landover, Maryland.  (Jess Rapfogel/Getty Images)
But Hurts wasn't only looking for Brown in this victory that moves the Eagles to 7-1. DeVonta Smith was just a tick shy under 100 yards himself, finishing with seven catches for 99 yards, including a 38-yard touchdown that gave the Eagles a 31-24 lead in the fourth quarter. 
Hurts was also able to find Julio Jones, whom the Eagles signed last week, for his first touchdown grab of his early Philly tenure. Hurts would finish with 319 yards on 29 of 38 and four passing touchdowns with no interceptions. 
COWBOYS' MICAH PARSONS SAYS EAGLES ARE NO 1 TEAM IN NFL: 'THEY'RE VERY SPECIAL'
For the Commanders, quarterback Sam Howell fought all game long to get back their once 14-3 lead in this game. He found Terry McLaurin in this game for the team's first touchdown, as he launched a beautifully thrown ball for a 26-yard score, where "Scary Terry" leaped and caught. McLaurin had four catches for 45 yards with the score. 
Jahan Dotson was also eight for 108 with a score, while tight end Logan Thomas had six catches for 44 yards and a touchdown. 
Jamison Crowder also hauled in a 26-yard touchdown late in the fourth quarter when the Commanders were down two touchdowns. Joey Slye attempted the onside kick for the miracle chance, but it was recovered by Smith to seal the victory for Philadelphia.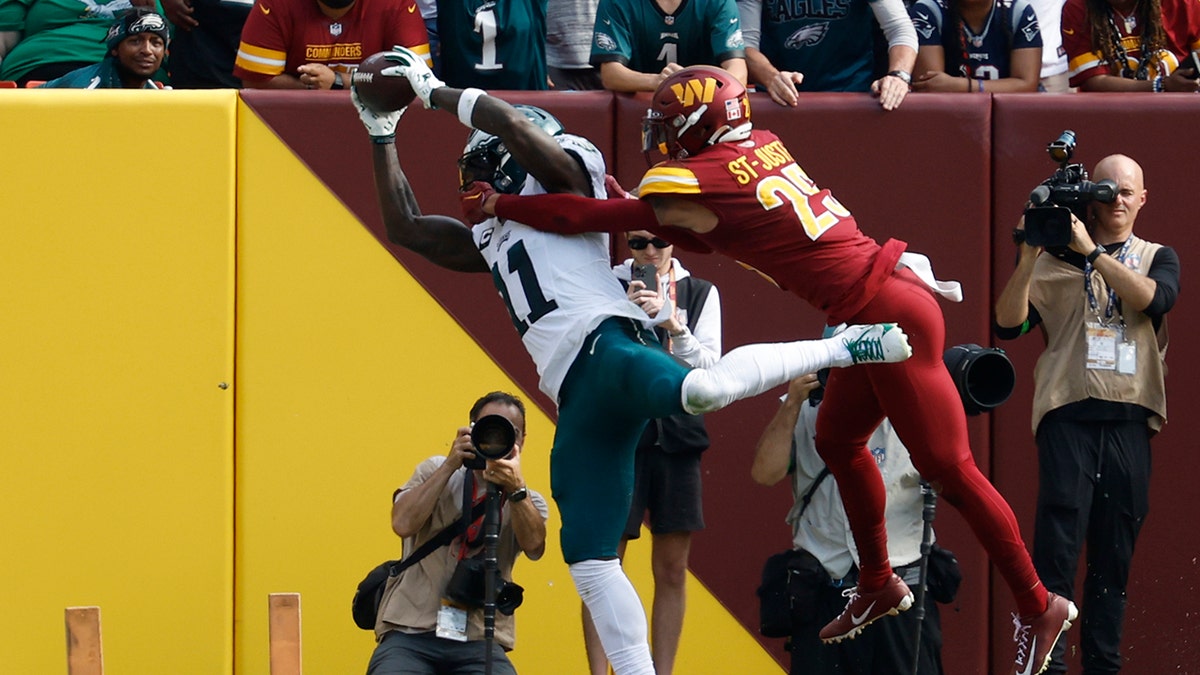 Philadelphia Eagles wide receiver A.J. Brown (11) catches a touchdown pass as Washington Commanders cornerback Benjamin St-Juste (25) defends during the second quarter at FedExField. (Geoff Burke-USA TODAY Sports)
CLICK HERE TO GET THE FOX NEWS APP
The Eagles, now winners of two straight after dropping their first game of the season to the New York Jets, will have an intriguing matchup next week against the Dallas Cowboys. Meanwhile, the Commanders will travel to Foxborough to take on the Patriots. 
Scott Thompson is a sports writer for Fox News Digital.