The horrific death of English Ice Hockey Association (EIHA) player Adam Johnson after being cut in the throat by a skate blade has led to a big rule change. 
The EIHA made an announcement on Monday, two days after Johnson's tragic accident, that players will be required to wear neck guards and protectors starting in 2024. 
Johnson was playing for the Nottingham Panthers when his throat was cut by a skate blade in a collision during a game against the Sheffield Panthers in Elite Ice Hockey League (EIHL) play on Saturday.
CLICK HERE FOR MORE SPORTS COVERAGE ON FOXNEWS.COM
Adam Johnson of the Pittsburgh Penguins skates against the Carolina Hurricanes at PPG Paints Arena in Pittsburgh on March 31, 2019. (Joe Sargent/NHLI via Getty Images)
"Undoubtedly, this moment in time casts a somber shadow upon our global sporting community, serving as a stark reminder of our collective responsibilities as custodians of the sport," the EIHA said in a statement. "As in all sports, the safety of our players must take precedence above all else. We are firmly committed to our obligation to exhaust every possible means to ensure that a tragic incident of this nature never befalls our sport again."
The EIHA explained that the recommendation to wear neck guards and protectors is a short-term safety protocol at all levels of English ice hockey. That recommendation will run through Dec. 31. 
When the new year arrives, it will be mandatory at all levels to wear the neck guards. 
EX-NHL PLAYER ADAM JOHNSON, 29, DEAD AFTER SUFFERING HORRIFIC NECK INJURY IN 'FREAK ACCIDENT' DURING GAME
But that's only the first step of the EIHA's plan. They want "relevant stakeholders" to take part in a review with the EIHA regarding all aspects of player safety equipment, which includes mouthguards, helmets, facial visors and more. 
Finally, the EIHA wants a continuous conversation with those involved in the league regarding improvements that can be done for player safety, so that a situation like this never happens again. 
"It is unacceptable for any player to lose their life while playing sport," the EIHA added in the statement. "Our responsibility is not only to avert the recurrence of such a heart-breaking accident, but also to pre-emptively address other foreseeable incidents in the future. We bear both a legal and a moral obligation to respond in a measured and pragmatic way.
"There is a distinct likelihood that comprehensive evaluations will transpire at the international level, and the EIHA is committed to taking an active and constructive role in this comprehensive process."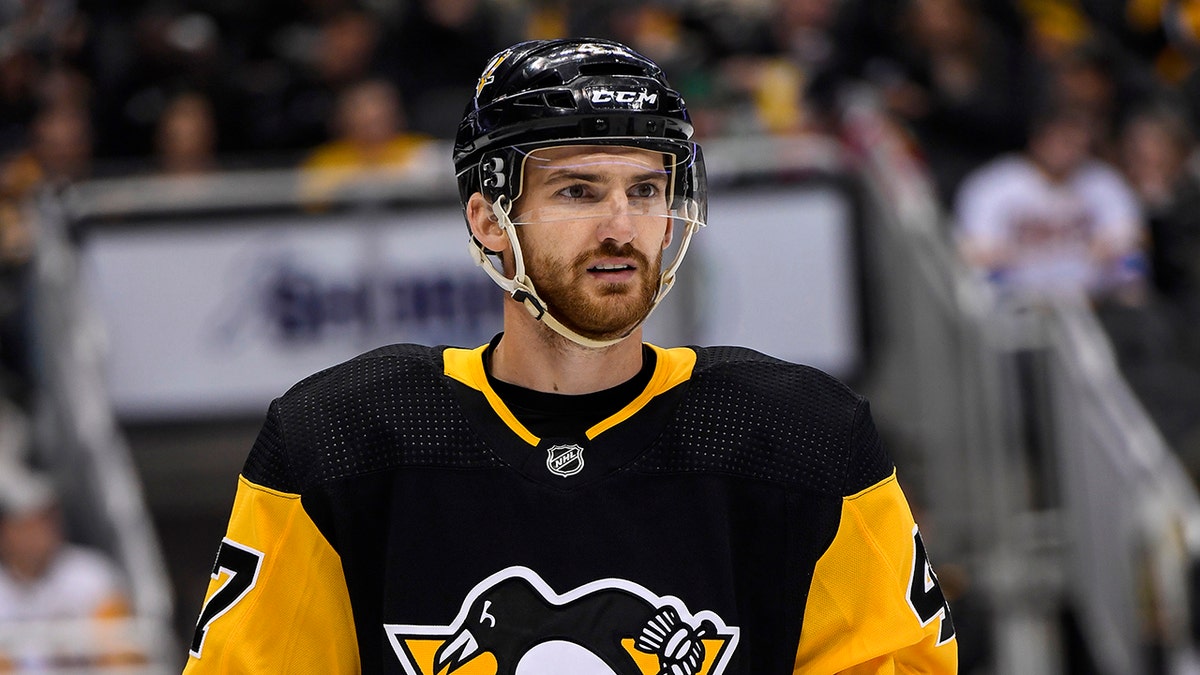 Pittsburgh Penguins left winger Adam Johnson looks on during the game against the Colorado Avalanche at PPG Paints Arena in Pittsburgh on Oct. 16, 2019. (Jeanine Leech/Icon Sportswire via Getty Images)
The hockey community worldwide was devastated by the loss of Johnson. His girlfriend, Ryan Wolf, posted a heartbreaking tribute to him on social media Monday. 
"My sweet angel," she posted to her Instagram Story with a picture from his previous team, the Augsburger Panther. "I'll miss you forever and love you always."
GIRLFRIEND OF DEAD EX-NHL PLAYER SHARES HEARTBREAKING MESSAGE AS POLIC INVESTIGATE 'FREAK ACCIDENT'
A moment of silence was also held before the start of the Heritage Classic between the Edmonton Oilers and Calgary Flames on Sunday night in honor of Johnson. 
Following Johnson's death, the EIHL postponed all games on Sunday. 
Johnson, a Minnesota native, previously played 13 games during the 2018–19 and 2019–20 seasons for the Pittsburgh Penguins, who honored him with their own statement.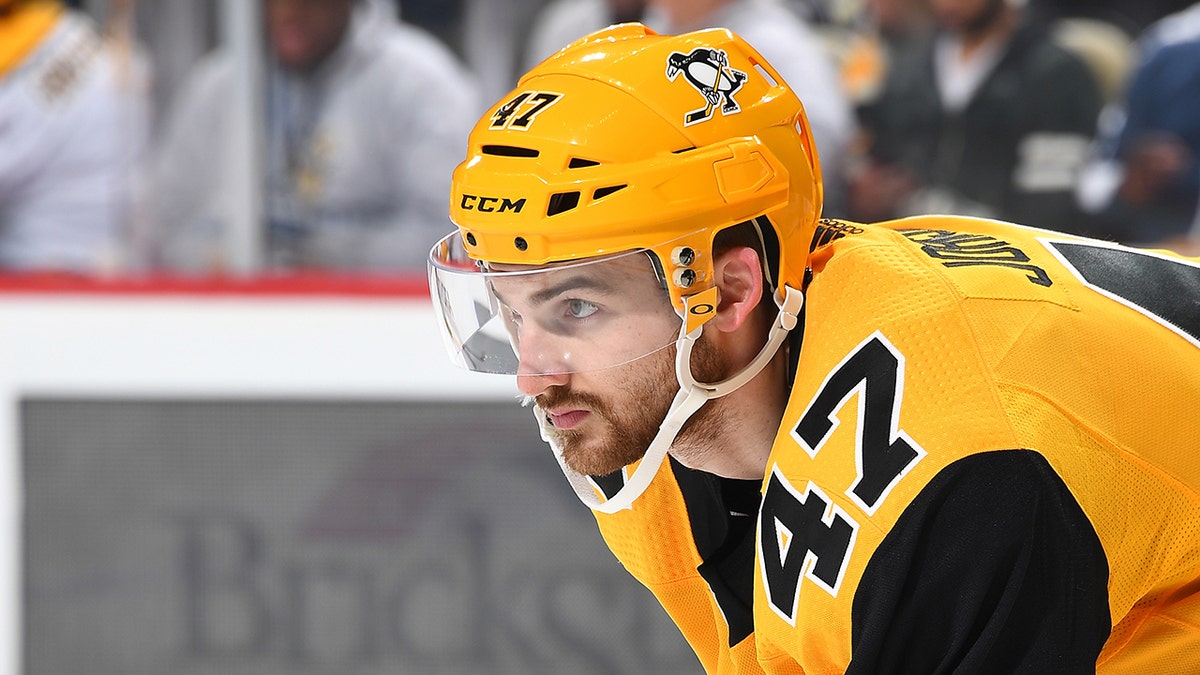 Adam Johnson of the Pittsburgh Penguins skates against the Nashville Predators at PPG Paints Arena in Pittsburgh on March 29, 2019.   (Joe Sargent/NHLI via Getty Images)
"The Pittsburgh Penguins join the entire hockey world in mourning the life of Adam Johnson, whose life tragically ended far too soon," the team said in a statement. "We offer our deepest condolences to Adam's family and friends, as well as all of Adam's past and present teammates and coaches. Adam will always be part of the Penguins family." 
CLICK HERE TO GET THE FOX NEWS APP
Johnson registered one goal and three assists while with the Penguins.
Scott Thompson is a sports writer for Fox News Digital.