An already storied career for five-time MLB All-Star and New York Yankee Aaron Judge as his legacy was cemented into history Sunday at his Alma Mater, Fresno State, with the retirement of his jersey, number 29, in front of a packed house of loyal Bulldog fans, along with many former teammates. 
"It is an incredible and humbling honor having my number retired at Fresno State," said Judge. "I'm excited to come back and enjoy the moment with so many coaches, teammates, and alumni that made this possible."
Judge's jersey was also retired alongside his former head coach at Fresno State, Mike Batesole.
Judge's and Batesole's jerseys will be the 12th and 13th retired numbers, respectively, in Fresno State baseball history, according to the university.
AARON JUDGE ACCOMPLISHES HOME RUN FEAT TO PULL YANKEES OUT OF RUT
Aaron Judge was honored with a jersey retirement ceremony at his Alma Mater, Fresno State.  (Fox Sports)
The 2022 American League MVP spent three seasons with the Bulldogs from 2011 to 2013 before being drafted in the first round of the 2013 MLB Draft by the New York Yankees. 
When asked what this day meant to him, Judge credited much of his success in the big leagues to his time as a Fresno State Bulldog.
YANKEES GM BRIAN CASHMAN DEFENDS TEAM'S PROCESS IN EXPLETIVE-FILLED RANT: 'I THINK WE'RE PRETTY F—ING GOOD'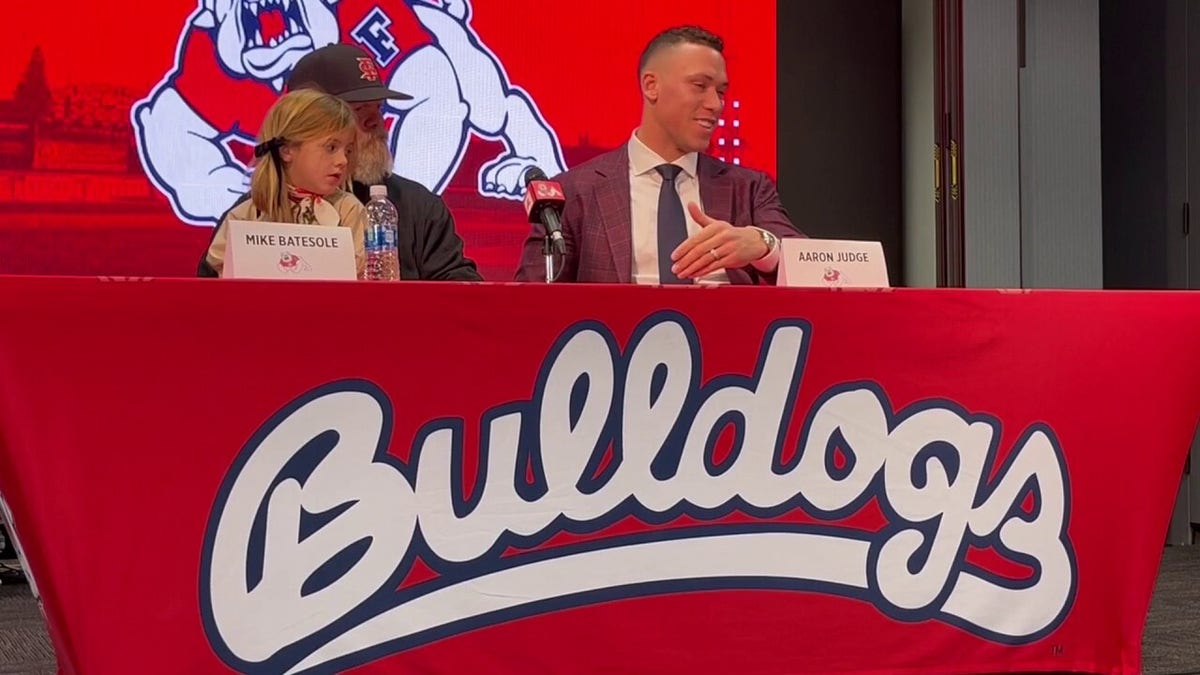 Aaron Judge reminisces time at Fresno State before jersey retirement ceremony.   (Fox Sports)
"In baseball and in life, it's a team game. It's always a team game. I think just those lessons about how to handle that, really prepared me for once I got to New York, where you're playing in a game of failure, you're going to have good days and you're going to have bad days but if you focus it on the team, how we can improve, just having that reassurance and learning those lessons here just allowed me to take that to New York and with the Yankees, the cultures just align perfectly, what the Yankees are all about, about winning, the team, about tradition…that's everything I learned here at Fresno State," said Judge.
Judge added that Fresno State was a great stepping stone to getting him to where he is now – that and the love and support from his parents, wife, and teammates. 
AARON JUDGE, AARON BOONE CRITICAL AS YANKEES' DISASTROUS SEASON REACHES FEVER PITCH: 'WE'RE NOT SHOWING UP'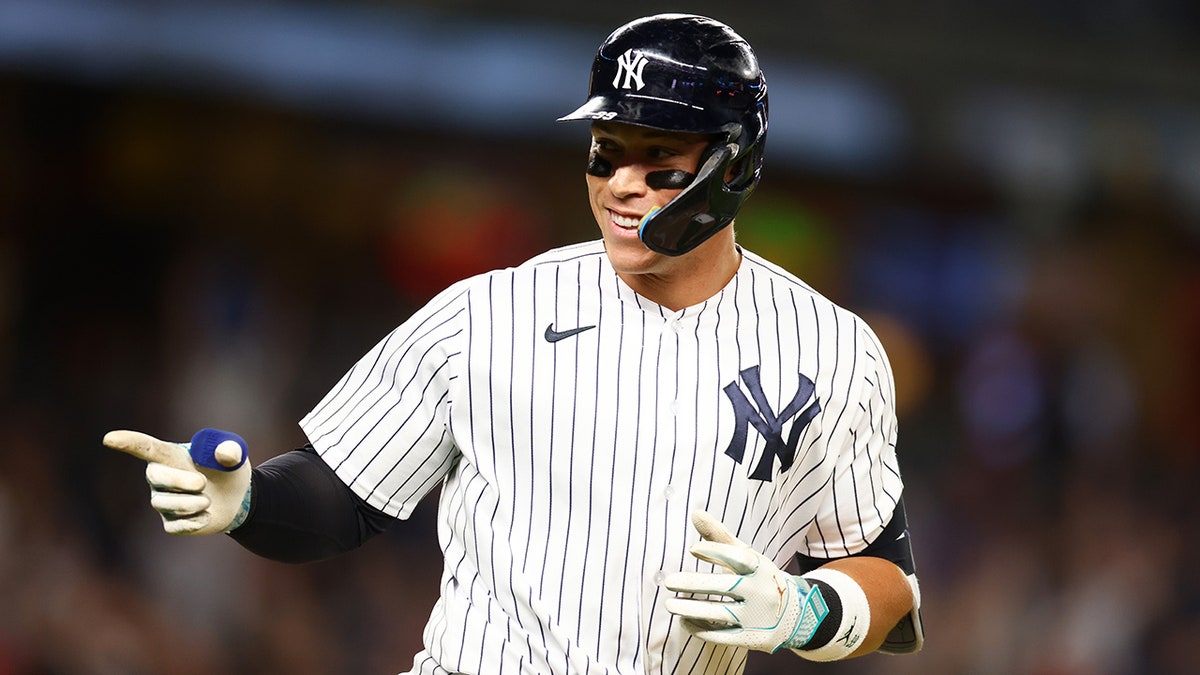 Aaron Judge #99 of the New York Yankees points to the dugout after hitting his third home run of the game against the Washington Nationals at Yankee Stadium on August 23, 2023, in the Bronx borough of New York City. (Mike Stobe/Getty Images)
Judge joined the Diamond Dogs two years after the program's first ever College World Series championship, sharing a field with other future MLB players in Taylor Ward, Austin Wynns and Jordan Luplow. 
As a Bulldog, Judge was named a Louisville Slugger Freshman All-American in 2011, as well as WAC Freshman of the Year as the starting center fielder. In 2012, Judge won the TD Ameritrade College Baseball Home Run Derby, becoming the first Diamond Dog to ever win it, where he launched 16 home runs over the course of three rounds.
Since then, Judge has been honored as the Rookie of the Year (2017), three time Silver Slugger (2017, 2021, 2022), Hank Aaron Award recipient (2022) and AL MVP (2022).
AARON JUDGE EXPLAINS WHY HE SINGS 'GOD BLESS AMERICA,' WHAT IT MEANS TO HIM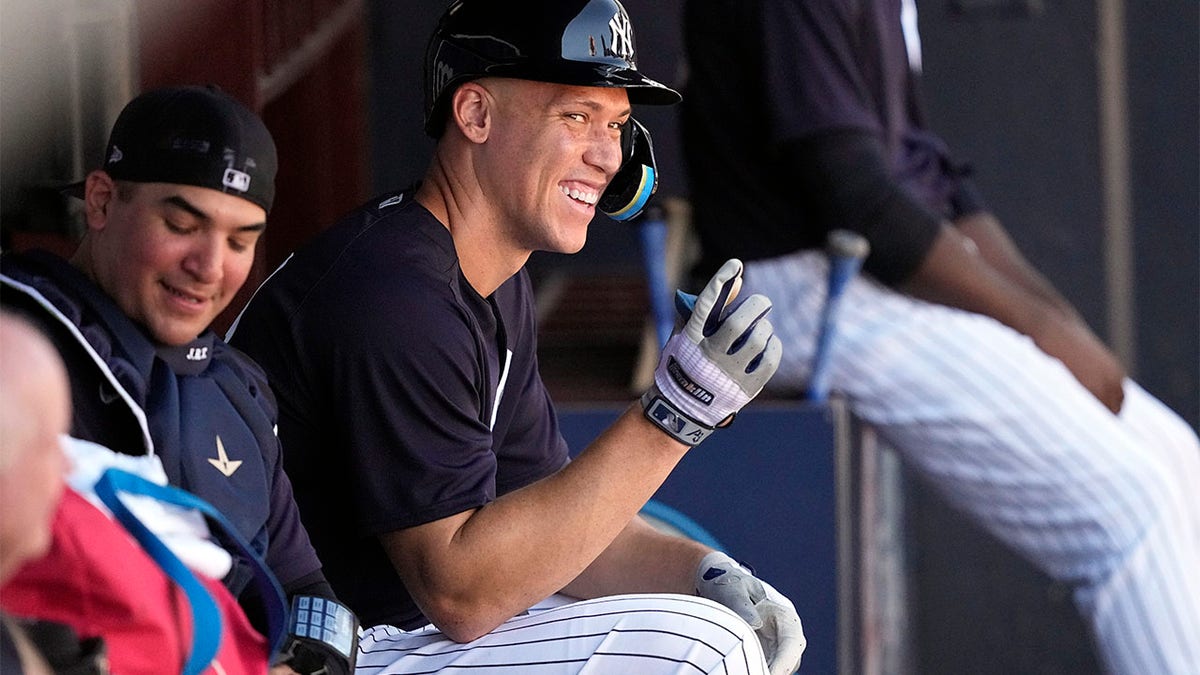 New York Yankees' Aaron Judge points from the dugout during a spring training baseball workout Monday, Feb. 20, 2023, in Tampa, Fla.  (AP Photo/David J. Phillip)
His most recent accomplishment was winning the 2023 Roberto Clemente award for his "extraordinary character, community involvement, philanthropy and positive contributions, both on and off the field, according to Major League Baseball. 
"The memories I made here are something I carry with me, on the field and off. These were pivotal years in my life and these lessons I learned at Fresno State – I continue to carry them with me and use them as motivation to continue to be better and the best I can be," said Judge. 
CLICK HERE TO GET THE FOX NEWS APP