San Francisco 49ers star Christian McCaffrey's streak of touchdowns ended Sunday in their 34-3 win over the Jacksonville Jaguars.
Deebo Samuel, George Kittle, Brandon Aiyuk and Kyle Juszczyk all scored touchdowns for the 49ers. But, somehow, the running back missed out despite recording 95 rushing yards on 16 carries.
CLICK HERE FOR MORE SPORTS COVERAGE ON FOXNEWS.COM
San Francisco 49ers running back Christian McCaffrey leaps into Jaguars cornerback Tyson Campbell on Nov, 12, 2023, at EverBank Stadium in Jacksonville, Florida. (David Rosenblum/Icon Sportswire via Getty Images)
He could have made history and broken Lenny Moore's record for consecutive games with a touchdown – regular season and postseason combined. He also could have become the third player in NFL history to score a touchdown in at least 15 consecutive regular-season games, joining Moore and LaDainian Tomlinson, both of whom did it in 18.
"Yeah, I suck," McCaffrey said. "Everyone else on the team scored except for me. No, that means a lot to me for them to keep me in at the end of the game there and try to get me that record. But, hey, I'll take a huge win."
San Francisco tried to get McCaffrey across the goal line in the blowout.
NBC BROADCASTER CRIS COLLINSWORTH JOKES ABOUT CONSEQUENCES OF REFS THROWING TOO MANY PENALTY FLAGS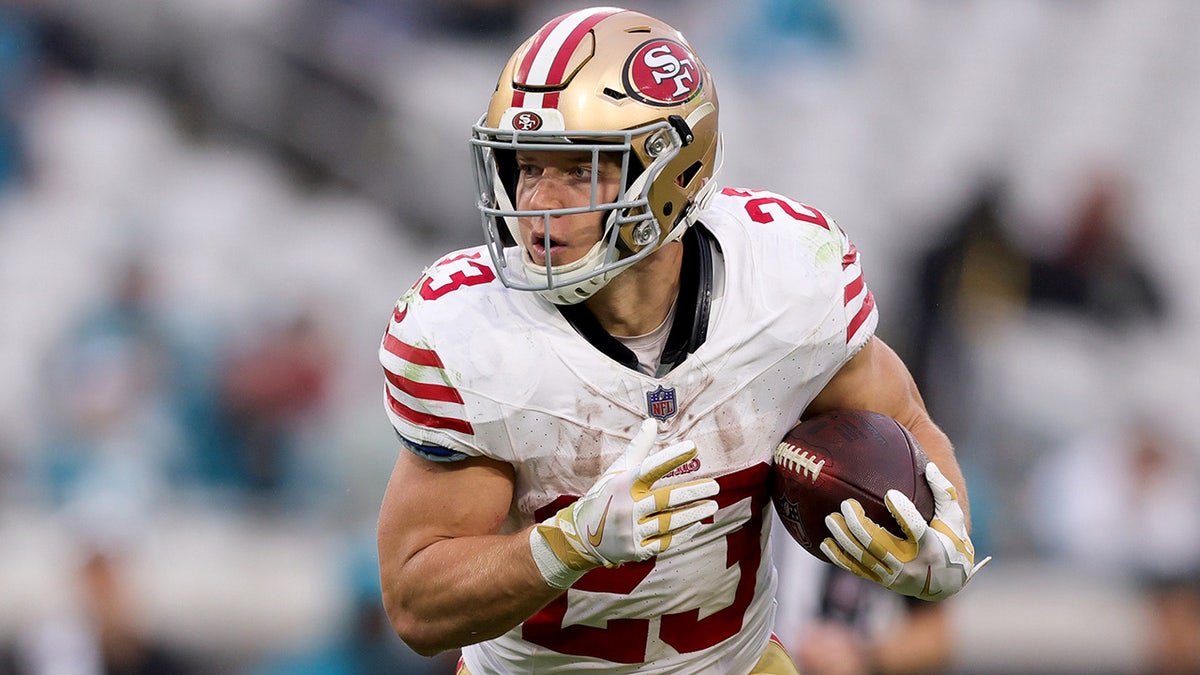 Christian McCaffrey of the San Francisco 49ers carries the ball against the Jaguars on Nov. 12, 2023, in Jacksonville. (Megan Briggs/Getty Images)
"Eighteen games in a row is a big record," 49ers coach Kyle Shanahan said. "If we had a chance to do it, I was going to try to do it for him. It's a little nerve-racking. Last thing I want to do is get him hurt…. We got close. 
"Wish we could have done it for him, but I think that was a pretty big accomplishment to do it for 17 games straight."
Shanahan said he explained the maneuvering to Jaguars coach Doug Pederson.
"Right when I saw him, I was like, 'Hey, I hope you know why we were trying to do that,'" he said. "And he was very well aware. He said they were talking about it. Hopefully it didn't offend him too much.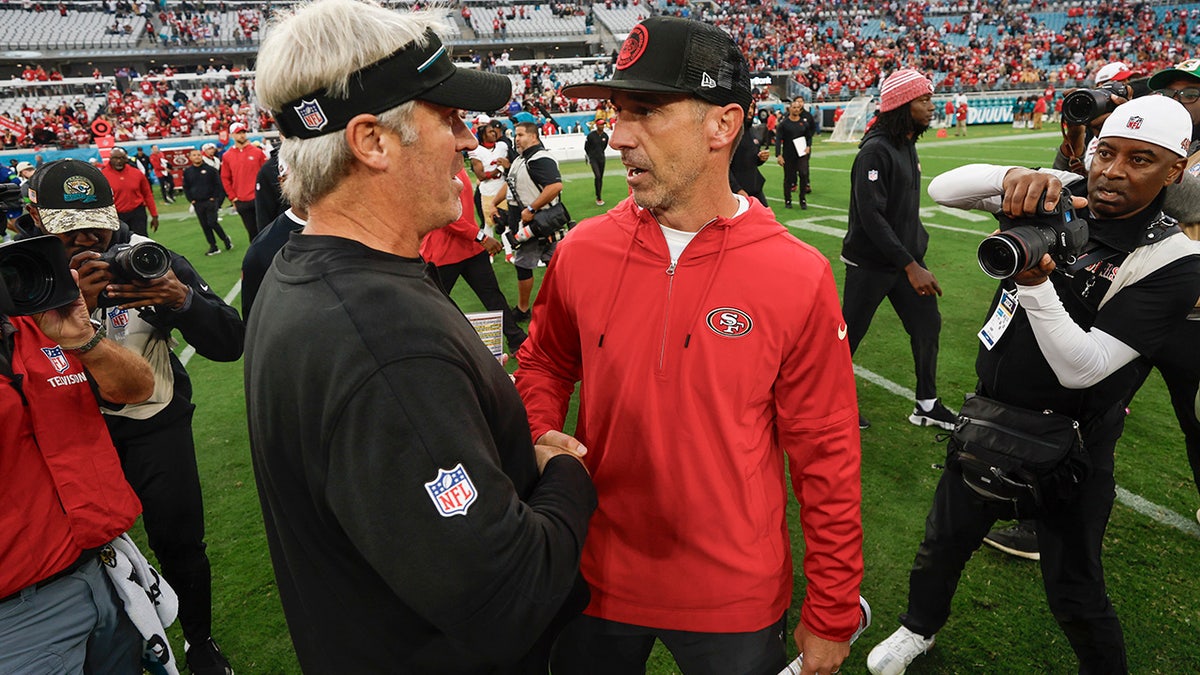 San Francisco 49ers head coach Kyle Shanahan greets Jacksonville Jaguars head coach Doug Pederson after their game on Nov. 12, 2023. (David Rosenblum/Icon Sportswire via Getty Images)
CLICK HERE TO GET THE FOX NEWS APP
"I try to make it on what I think is right for the team," he added. "Sometimes it's right, sometimes it's wrong. But I'm not going to think about (reporters) until after the game. Then I can just deal with it."
The Associated Press contributed to this report.
Ryan Gaydos is a senior editor for Fox News Digital.