While there are various factors that lead an MLB team to victory, it takes both skilled athletes, and strong leadership to win a World Series title. 
Many of the coaching greats have spent years in their position before winning a World Series title.
Below is a list of World Series coaches that have led their teams to World Series victories. 
Each year, the 30 teams in the MLB battle it out in hopes of becoming World Series champions and taking the Commissioner's Trophy back to their city.  (Photo By Tom Williams/CQ-Roll Call, Inc via Getty Images)
10 MEMORABLE POSTSEASON MOMENTS IN WORLD SERIES HISTORY 
Tony La RussaSparky AndersonWalter AlstonJoe TorreBobby CoxConnie MackCasey StengelMiller HugginsJohn McGrawJoe McCarthyBruce BochyBucky HarrisTommy LasordaDusty Baker
1. Tony La Russa
Tony La Russa managed three teams during his 33 years as a baseball manager. He coached the Chicago White Sox from 1979 until 1986, the Oakland Athletics from 1986 to 1995 and the St. Louis Cardinals from 1996 through 2011. 
During his time as a manager, he had a record of 2,728-2,365. He won six pennants won three World Series, his first in 1989 with the Oakland A's, his second in 2006 with the Cardinals and his third in 2011, again with the Cardinals, to conclude his final season before retirement.
2. Sparky Anderson
Sparky Anderson was a manger for 26 seasons. He coached the Cincinnati Reds from 1970 until 1978. He concluded his MLB coaching career with the Detroit Tigers, who coached from 1979 until 1995.
Anderson was a driving force in leading the "Big Red Machine," or Reds, to back-to-back World Series wins in 1975 and 1976.
A BRIEF LOOK INTO THE HISTORY OF THE WORLD SERIES CHAMPIONSHIP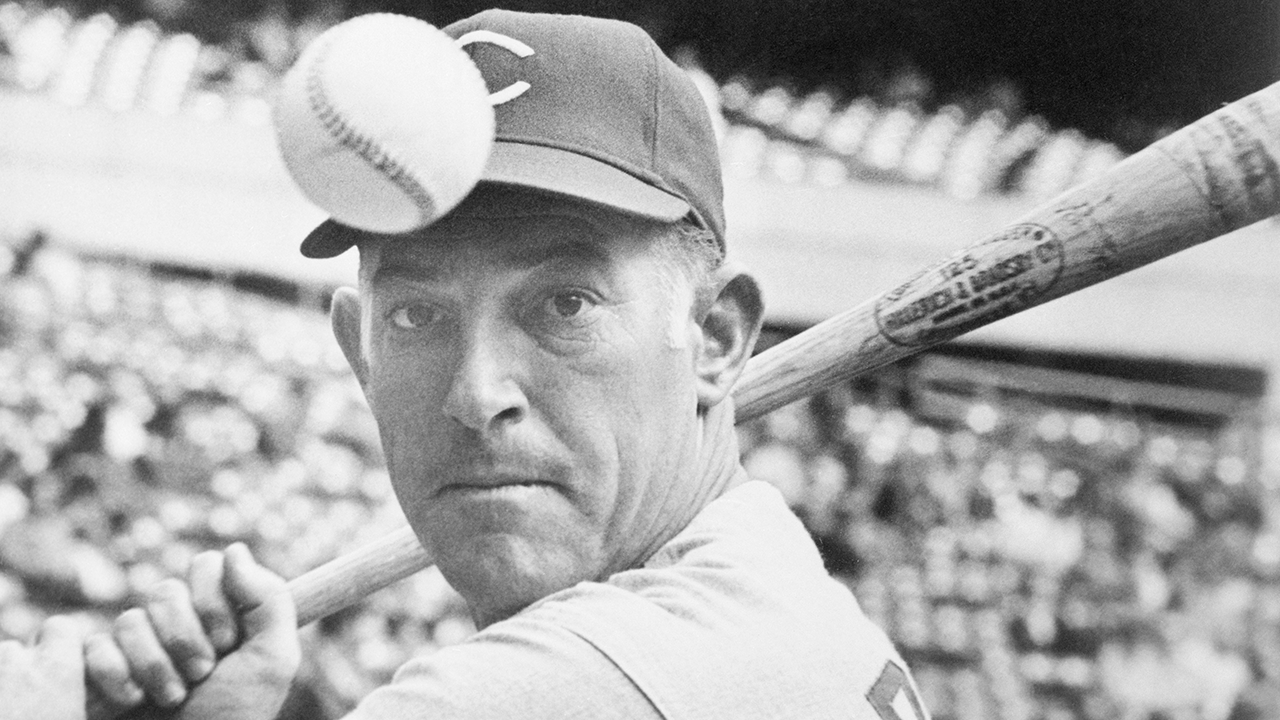 Sparky Anderson won the World Series back-to-back seasons in 1975 and 1965.  (Getty Images)
3. Walter Alston
Walter Aniston spent all of his 23 years as a manager for the Brooklyn Dodgers, who moved to Los Angeles during his tenure. He had a career record of 2,040-1,613 with the Dodgers. The team won seven postseason pennants and four World Series.
4. Joe Torre
Joe Torre was a manger for 29 years, and coached quite a few teams during his time in the MLB. 
He managed the New York Mets from 1977, while he was still a player on the team, to 1981. Then, he coached the Atlanta Braves from 1982 until 1984 and the St. Louis Cardinals from 1990 to 1995. Then, he coached the New York Yankees from 1996 until 2007. He spent his final two years in the MLB with the Los Angeles Dodgers from 2008 until 2010.
In his 29-year career, he won 2,326 games and six pennants during his time as a manager. He led the Yankees to World Series victory during his first, third, fourth and fifth seasons.
5. Bobby Cox
Though Bobby Cox was ejected from many games, he is a well-regarded and memorable coach in MLB history. 
Cox was ejected from 162 games during his 29 years in the MLB, which is a record for total ejections by a manager. He spent his early seasons with the Atlanta Braves, and then the Toronto Blue Jays from 1982 through 1985. He went back to the Braves for the 1990 and 2010 seasons. 
Cox's had 2,504 wins as a manager and has been to the playoffs more times than any other coach in MLB history, but he only won the World Series once with the Braves in 1995.
2023 WORLD SERIES: EVERYTHING TO KNOW ABOUT THE FALL CLASSIC BETWEEN THE RANGERS AND DIAMONDBACKS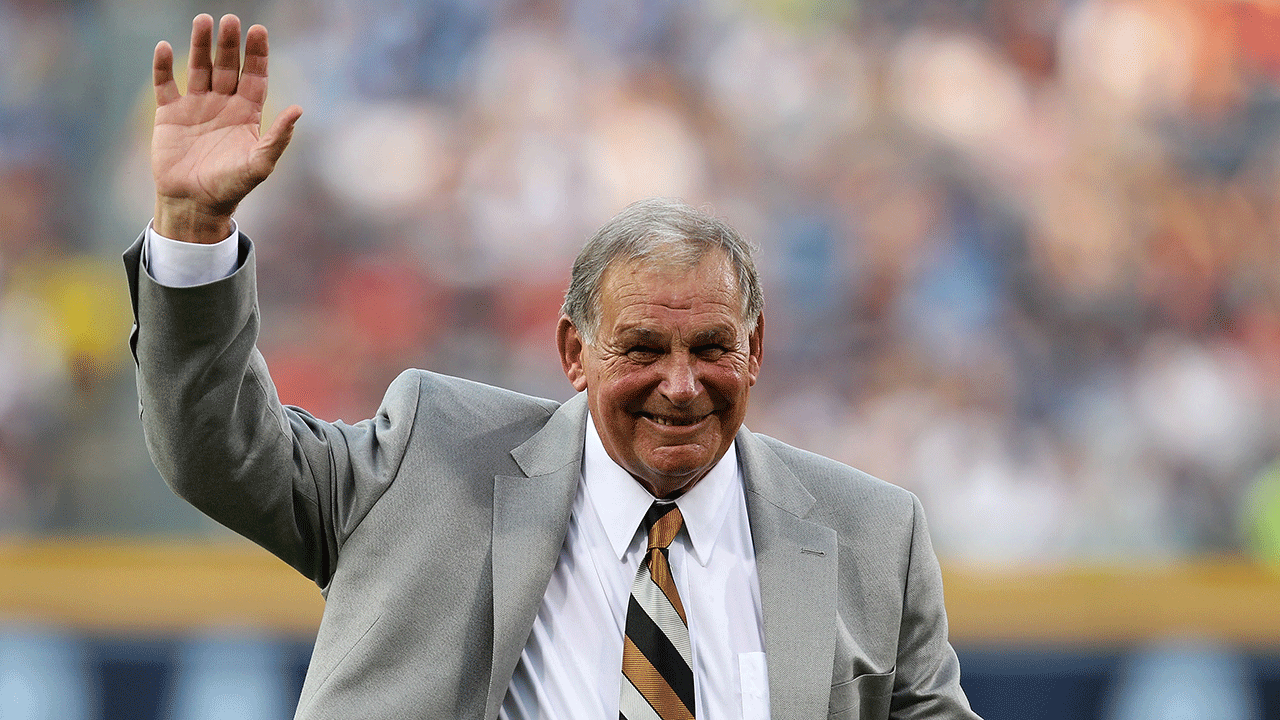 Bobby Cox spent most of his time as an MLB manager with the Atlanta Braves.  (Mike Zarrilli/Getty Images)
6. Connie Mack
Connie Mack kicked off his career as an MLB manager with the Pittsburgh Pirates from 1894 through 1896. He spent the majority of his career, 50 years to be exact, with the Philadelphia Athletics. When he retired, he was 87 years old. 
He is the longest-tenured MLB manager in history. Mack won the World Series five times, in 1910, 1911, 1913, 1929 and 1930. He holds the record for most career wins with 3,731.
While he managed the team, he was also part owner of the Athletics. 
7. Casey Stengel
Casey Stengel is tied with Joe McCarthy for most World Series titles, each with seven wins. He first managed the Brooklyn Dodgers before coaching for the Boston Bees/Braves from 1938 to 1943. 
Stengel coached Mickey Mantle, Joe DiMaggio and Yogi Berra during his time as a coach for the Yankees. 
OVER 60 YEARS OF MVPS: A LIST OF ALL MLB WORLD SERIES MVP AWARD WINNERS THROUGH THE YEARS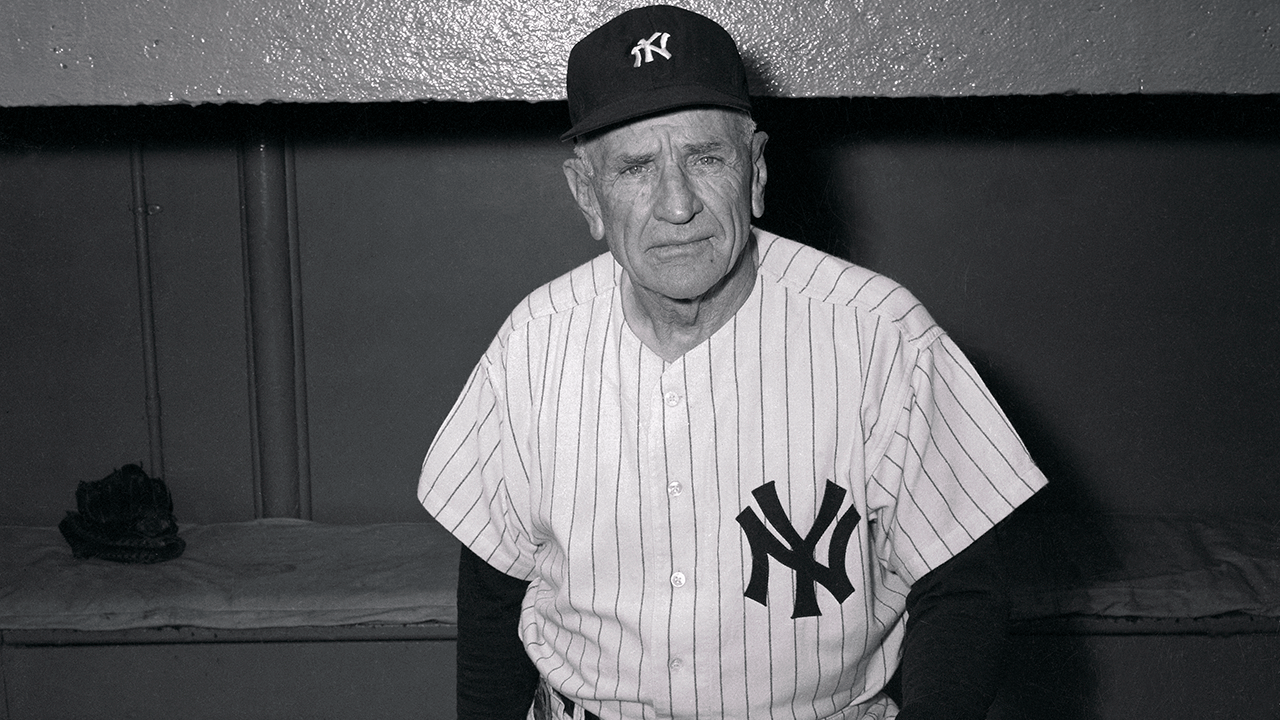 Casey Stengel is tied with Joe McCarthy for the most World Series titles held by a manager.  (Getty Images )
8. Miller Huggins
Miller Huggins won the World Series three times as a coach in 1923, 1927 and 1928. He was a manager for 17 years, first with the St. Louis Cardinals from 1913 to 1917. He finished his career with the New York Yankees, from 1918 to 1929.
Huggins passed away late in the 1929 season when he was only 51 years old. 
9. John McGraw
John McGraw was an MLB manager for 33 years. He played with the Baltimore Orioles as a player and manager in 1899, and then again in 1901 and 1902. Then, he managed for the New York Giants, and also played for the team for the first five years he was a manager.
In his career, he won a total of 2,763 games. He won three World Series' in 1905, 1921 and 1922. 
10. Joe McCarthy
Joe McCarthy managed legends including Babe Ruth, Lou Gehrig and Joe DiMaggio while he was a manager for the New York Yankees.
Joe McCarthy coached baseball legends like Babe Ruth, Lou Gehrig and Joe DiMaggio.  (Getty Images )
THE STERLING SILVER COMMISSIONER'S TROPHY IS VALUED AT AROUND $15,000
In the 24 years he was a manager, he never had a losing record. He won an impressive seven World Series, all with the New York Yankees, in 1932, 1936, 1937, 1938, 1939, 1941 and 1943. He also managed the Chicago Cubs and the Boston Red Sox.
11. Bruce Bochy
Bruce Bochy won all three of his World Series' with the San Francisco Giants. They first won in 2010, again in 2012 and a third time in 2014. 
12. Bucky Harris
Bucky Harris was a player/manager for the Washington Senators when he was 27 years old. He was nicknamed in baseball as "Boy Wonder." 
Because of his young age, he was younger than some of the players he coached. Harris led the Senators to their first and only World Series victory in Washington in 1924.
CLICK HERE TO GET THE FOX NEWS APP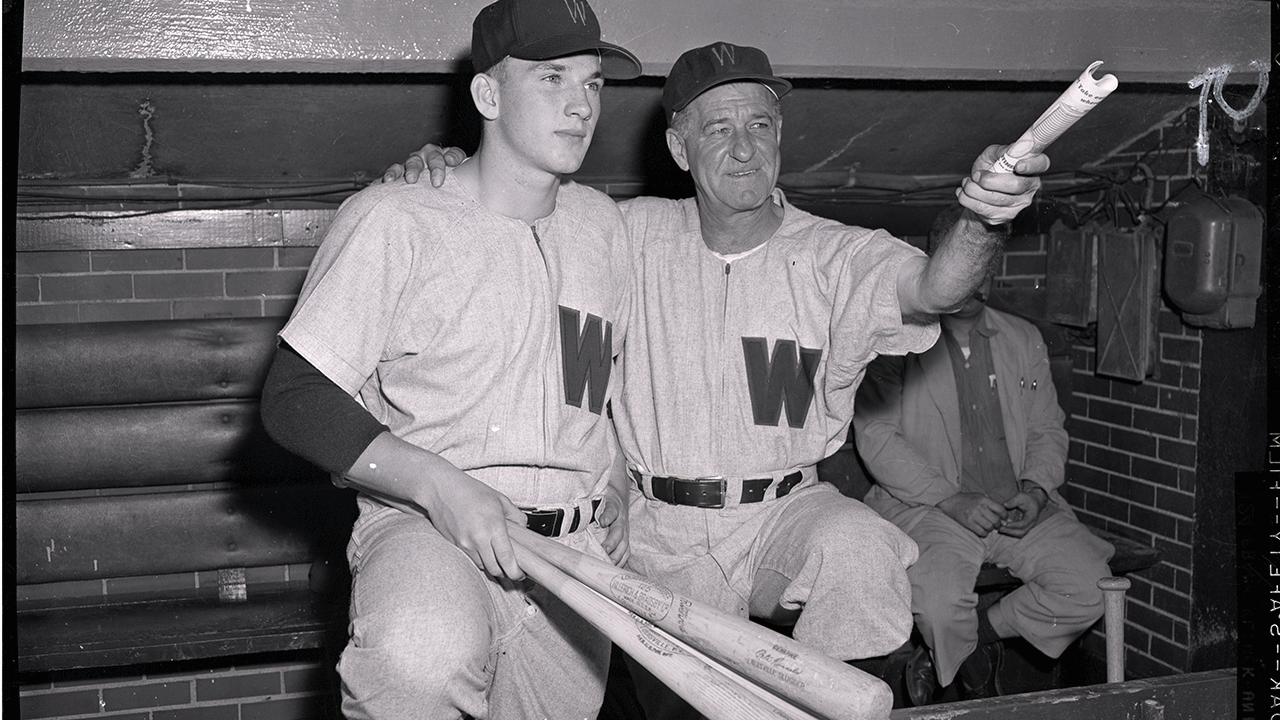 Bucky Harris started managing the Washington Senators when he was 27 years old while he was still a player and stayed with the team for 29 seasons.  (Getty Images )
13. Tommy Lasorda
Tommy Lasorda was great at working with the young players on his team. In fact, for the 20 years he managed the Los Angeles Dodgers, nine of his players won rookie of the year and he won two World Series' with the team. 
The year after he retired, he was inducted into the Hall of Fame. After his run in the MLB, he manged the U.S. Olympic team in which they earned the gold in 2000.
Even after leaving as a manager of the Dodgers, he remained part of the organization upon becoming a vice president.
Ashlyn Messier is a writer for Fox News Digital.